Eighty four students made history last week when they became the first cohort to graduate from the University of Nottingham's School of Veterinary Medicine and Science – the first new vet school to open in Britain for 50 years.
Eighty four students made history on July 22, 2011, when they graduated from the first new purpose-built vet school in Britain for 50 years.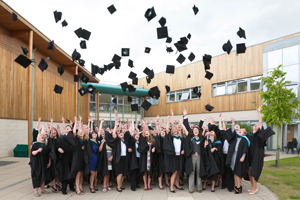 The University of Nottingham students, who enrolled in September 2006, are the first cohort to have successfully completed the innovative five year veterinary degree course which has helped to change the way veterinary medicine is taught in Britain.
 
The five-year course is unique in that students get hands-on experience with animals from day one and it awards three separate degrees: Bachelor of Veterinary Medical Sciences (BVMedSci) is awarded in year three after completion of a research project, and the professional qualifications, the Bachelor of Veterinary Medicine (BVM) and Bachelor of Veterinary Surgery (BVS) degrees in year five.
 
Last month the RCVS Council made its unanimous recommendation for the degree's approval to the Privy Council after a detailed visitation and audit process.
 
Prof Gary England, foundation dean and professor of comparative veterinary reproduction, said: "This is a momentous day for the students, their families and the veterinary profession. We were given a unique opportunity to establish a brand new veterinary school. Recognition by the Royal College of Veterinary Surgeons was the highest possible accolade they could award — their approval and today's graduation ceremony is the culmination of five years successful hard work for staff and students."
 
Prof David Greenaway, vice-chancellor of The University of Nottingham, said: "Having set up the new school from a standing start the graduation of our first cohort of vet students is a chance to celebrate a remarkable achievement. Our congratulations go to the students and we wish them well in their future veterinary careers — whether that is in clinical practice or research."
 
The class of 2011 was joined by David Noakes, emeritus professor of the Royal Veterinary College, who received an honorary degree during the ceremony.