Initial responses in the first audit of registered veterinary nurses' CPD record cards suggestthat RVNs may be recording considerably more than the minimumaverage annual amount necessary to fulfil RCVS requirements.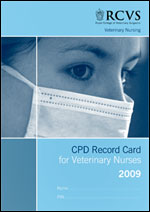 The RCVS asked 509 RVNs to submit copies of their CPD cards – selected by random sampling, these people represent 10 per cent of all RVNs (both small animal and equine) who have been registered for more than a year. So far, the college has received 449 responses.
Libby Earle, RCVS head of veterinary nursing, said: "The responses we have received so far from the RVNs asked to submit their CPD record cards are encouraging. They suggest that many RVNs already do considerably more CPD than required by the VN byelaws.
"The purpose of this audit is to draw up baseline figures for future use. We will not be contacting individual RVNs about their CPD following this exercise – not least because the first three-year period during which RVNs are required to complete 45 hours of CPD runs until the end of next year.
"We are still looking at results and will be contacting people who've not yet responded to remind them to send their cards in. The results will then be presented at the next VN Council meeting. So, if we've asked you to submit your CPD card, and you have not yet sent it in, please could you make sure that you do so."