Zoetis hosts silver anniversary lunch at the University of Bristol to mark the Feline Fellowship's quarter century.
The Feline Fellowship has celebrated its silver anniversary with a lunch at the University of Bristol.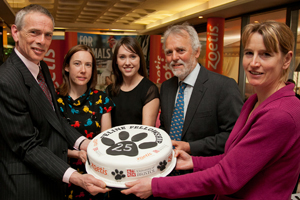 Tim Gruffydd-Jones, professor of feline medicine at the university, attended the Zoetis-hosted event to celebrate 25 years of the Feline Fellowship.
A collaboration between the Feline Centre at the University of Bristol School of Veterinary Sciences and Solvay-Duphar (one of the companies to precede Pfizer Animal Health and now Zoetis), the Feline Fellowship is still going strong 25 years later. The partnership offers veterinary surgeons the opportunity to develop interests in feline medicine at the start of their career and become involved in a feline project, gaining an insight into the field of research.
The very first collaborative study in 1987 looked at Chlamydophila felis because a vaccine was available but very little was known of the importance of this organism as a cause of disease in cats in the UK.
Solvay-Duphar funded the investigation undertaken by Jo Wills as her PhD study to develop diagnostic tests to screen for infection to determine its importance as a cause of disease and reassess the efficacy of the vaccine in providing protection. From the success of this first study, the Feline Fellowship was born.
In addition to the fellowship, the collaboration produces Feline Update, a newsletter which provides practical information on topical, controversial and key issues in feline medicine relevant to the general practitioner.
Prof Gruffydd-Jones said: "When John Hanley, vice-president and general manager for Zoetis, and I first created the fellowship in the 1980s, I'm sure neither of us thought we would one day be celebrating a silver anniversary.
"Through the years we have been fortunate to have had an outstanding group of feline fellows, most of who have continued their interest in feline medicine and made major contributions to the subject.
"I strongly believe the fellowship has delivered a great service to feline medicine and we hope to one day reach the golden anniversary."