A critical and practical overview of diagnostic and treatment options for chronic kidney disease (CKD) in cats has been developed by a panel of experts.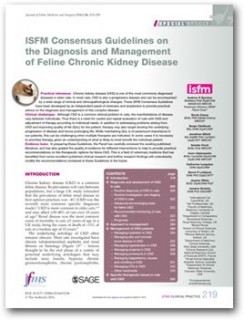 The International Society of Feline Medicine, the veterinary division of International Cat Care, convened a panel of veterinary clinicians and academics to produce the guidelines, which are featured in the March edition of Journal of Feline Medicine and Surgery.
Relationship advice
In making the recommendations, the panelists – from the UK, France, Australia and North America – have considered various management approaches and graded the quality of the available published evidence with respect to their impact on quality of life and longevity.
Given the nature of CKD, the guidelines emphasise how vital it is for veterinary clinics to establish a good relationship with cat owners. This will facilitate treatment plans to be created that take into consideration the wishes and ability of the owner, as well as the needs of the cat.
A podcast recording of panel chairman Dr Andrew Sparkes discussing the guidelines is also available.