National Farmers' Union praises work of members as they fight to look after the welfare of livestock in conditions out of character for this time of year.
Farmers across the UK have been fighting to keep their livestock alive after unseasonal snow and icy conditions settled on several parts of the country.
As the Met Office issued a level three amber weather warning signalling a continued 100% probability of severe cold weather and icy conditions, the NFU says farmers are trying their hardest to deal with conditions that are "totally out of character for this year", especially as it's lambing season.
NFU vice-president Adam Quinney said: "These are unusual conditions for the time of year. Farmers are resilient and are working around the clock to look after the welfare of their animals.
"It has put an extraordinary strain on the industry after what has been a torrid 12 months of extreme weather, compounded by the fact that many farmers' sheep are lambing at the moment."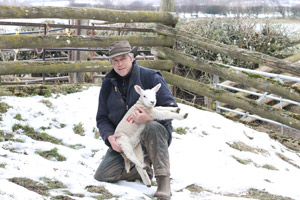 Despite sheep being adapted to living outside, said Mr Quinney, lambing in such weather is unusual so it is likely that there will be deaths in those areas most affected.
"We do expect to see some losses in areas; I've talked to families where everyone is out all day and night just trying to get feed out there. You will find farmers up and down the country helping to ensure roads are clear so feed deliveries can make it on to farm, and in many cases bringing animals inside to protect against the elements."
Despite the conditions, Mr Quinney called the work of farmers "incredible".
"Farmers are just exhausted, but they are continuing to work hard to ensure as much as can be done is being done in these unprecedented circumstances," he said.
Images courtesy of NFU