Emma Milne and Donal MacIntyre will team up with staff at North Yorkshire swimming pool to raise cash for the Animal Welfare Foundation.
TV vet Emma Milne will team up with friend and investigative journalist Donal MacIntyre and 41 staff at a North Yorkshire school to swim 300 lengths for charity.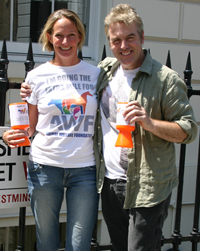 The event will take place at Ryedale Pool in Pickering on September 5 to raise money for the Animal Welfare Foundation (AWF) in its 30th anniversary year.
Emma said: "Since deciding to do the swim it's become quite a thing and I'm really proud of everyone who's joined in.
"This year is the AWF's 30th anniversary and we desperately need more awareness of its work but also, of course, money to continue making a real impact on the welfare of thousands of animals in the UK. I have a lot of training to do still, but we are all determined."
Donations can be made at Emma's JustGiving page or by texting to 70070 the donation amount (up to £10) along with the unique code 'TAWF83'.
The AWF is committed to improving the welfare of all animals through veterinary science, education and debate.
It aims to apply the knowledge, skills and compassion of veterinary surgeons in an effective way by identifying and funding a variety of research projects and educational activities targeted at improving animal welfare.
For further information, please contact the BVA Media Office on 020 7908 6340 or media@bva.co.uk