The European Parliament today (May 5) "hammered the final nail in the coffin of the sealing industry's market" by voting 550 to 49 in favour of a ban on the trade of seal products within the EU.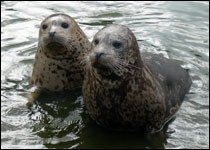 The International Fund for Animal Welfare (IFAW) applauded the decision as a significant victory in IFAW's 40-year campaign to end Canada's cruel commercial seal hunt. The ban will forbid the sale of seal products for profit within the EU with an exception for Inuit and other indigenous peoples.
Robbie Marsland, UK Director of IFAW, said: "The Parliament has hammered the final nail in the coffin of the sealing industry's market in the EU.
"MEPs clearly heeded the tens of thousands of emails, postcards and messages sent by citizens in the UK and across Europe who opposed commercial seal hunting on the grounds of its unacceptable cruelty.
"It is a testament to the strong political will and determination of the three European institutions that they were able to come to a first agreement reading. From Mexico City to Milan and all the way to Moscow, the world is uniting in opposition to commercial seal hunts. A complete collapse of Canada's commercial seal hunt may now be inevitable."
A total of 30 countries have now banned the sale of seal products, including seven of Canada's top 10 export markets. The ban comes just weeks after another victory for IFAW's campaign against commercial sealing. In March, Russia announced a ban on the hunting of seals under one year of age in the White Sea, effectively ending the Russian seal hunt.
IFAW's focus now shifts to Canada where Canadian Senator Mac Harb recently introduced a bill to end commercial sealing. The organisation is calling on the public to increase pressure on Canada by contacting their Canadian embassies and demanding an immediate end to Canada's commercial seal hunt.
For more information, including Canadian embassy contacts, please visit www.stopthesealhunt.org