Tony Barbara, 48, received the ban for training two pit bull terrier type dogs and one bull terrier for fighting as well as illegally treating the dogs' injuries himself with veterinary kit.
An Essex dog owner who used dogs for fighting has been convicted of a string of animal cruelty offences and banned from keeping dogs for 10 years.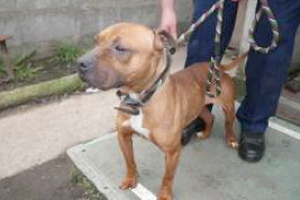 On Monday (February 4, 2013), Tony Barbara was also given a 24-week custodial sentence, which was suspended for two years, after he was found guilty of training dogs to fight.
 
Romford Magistrates' Court heard the 48-year-old trained two pit bull terrier-type dogs called Susie and Elaine, and a bull terrier called Gerald, for fighting.
 
He was also found guilty of possession of a flirt pole, used to train dogs for fights, and a veterinary kit – which included a flesh stapler – used to self-treat their injuries. The items were found at Barbara's address on Third Avenue, Dagenham, during a search of his home by the RSPCA and Essex Police. A forensic analysis of the flesh stapler showed it carried canine DNA, and that it had been used to treat injured dogs.
The defendant was also convicted of two counts of causing unnecessary suffering to terrier Elaine, by failing to get appropriate veterinary treatment for  an injury to the dog's teat and her conjunctivitis.
Barbara previously admitted possession of the two pit bull terrier-type dogs in breach of the Dangerous Dogs Act.
He was also ordered to pay costs of £780.
 
Mike Butcher, chief inspector of the RSPCA's special operations unit, said: "Tony Barbara trained his dogs for the sole purpose of fighting – an activity that was a premeditated act intended ultimately to cause horrific levels of deliberate cruelty in the pit.
 
"Dog fighting is a depressing blot on our reputation as a nation of animal lovers. While people like Barbara continue to pursue their sickening obsession, we'll continue to track them down and bring them before the courts."