Rossdales Veterinary Surgeons managing partner Tim Greet has retired.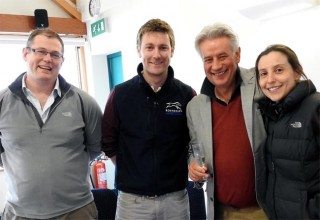 After more than 30 years at the equine practice in Newmarket, Mr Greet is stepping down as a partner, but will continue to be involved with the practice as a consultant.
Three new partners
Mr Greet will be replaced by Mike Shepherd, while Lewis Smith, Emily Haggett and Tom O'Keeffe have been appointed as associate partners.
During his career, Mr Greet has enjoyed a number of highlights, including holding the presidency of BEVA, the BVA and the World Equine Veterinary Association.
Legacy
Mr Greet has also helped supervise the building of Rossdales' equine hospital and diagnostic centre.
Mr Shepherd said: "We all wish Tim a long and happy retirement with his wife Gilly and family.
"While Tim will be much missed by everyone, we are delighted to welcome Lewis, Emily and Tom into the partnership and are happy and excited to have them with us for the future. Congratulations to you all."