The Fédération Equestre Internationale adds substances to 'controlled' and 'banned' parts of list, which will come into force on January 1 2014.
The Fédération Equestre Internationale (FEI), the international governing body for all Olympic equestrian disciplines, has announced it has approved changes to its equine prohibited substances list.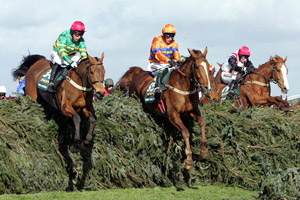 The changes, which will come into force on January 1, 2014, were proposed by FEI's list group and are published now to allow vets, national federations and athletes "sufficient time to familiarise themselves with the revised list prior to implementation".
The changes cover both "controlled medication" substances – those with a legitimate therapeutic use, but banned in competition as they have a potential to enhance performance – and "banned" substances – medicines the FEI deems to have no legitimate use in equine practice.
The changes are:
metformin, a "potent, but legitimate" oral anti-diabetic drug with a potential welfare risk, is to become a controlled medication;
levothyroxine, an exogenous thyroid hormone replacement, which can enhance performance, is to become controlled;
adrenocorticotrophic hormone, which was previously a banned substance, is now a controlled one, "due to its therapeutic value in equine medicine"; and
three new substances – ammonium chloride injectable, gamma-butyrolactone and gamma-hydroxybutyrate – are to be be added to the banned list, "as they are considered to have a potential for abuse, or to improve athletic performance".
The changes to the list are also accessible on the FEI's Clean Sport webpage, but the complete up-to-date equine prohibited substances list will not be available until January 1.
Elsewhere at the FEI, its president, Princess Haya of Jordan, has announced she will not be pursuing a third term at the helm of the federation.
The announcement comes days after opponents accused her of having a "conflict of interest" as she is the junior wife of Sheikh Mohammed, the man behind the Goldophin racing outfit, which earlier this year was besieged by illegal doping results by one of its trainers.
However, in a statement, Princess Haya said she is stepping down as she believes FEI presidents should not carry out more than two terms, a rule she introduced when she was elected in 2006. However, earlier this year, regional chairmen of the FEI tried to change statutes so she could stand again when her second term ends in November of next year. Previous FEI presidents have served three terms or more.
Princess Haya said: "While I very much appreciate, and am honoured, by efforts of the FEI regional group chairpersons and the national federations to amend the FEI statutes to permit me, or any FEI president, to seek a third term, my views on the benefits of a two-term limit have not changed since the day I was elected.
"Together, through thick and thin, we have achieved more than 80% of all pledges laid down in my manifesto and programme in an open, democratic and transparent manner.
"I will work as hard as ever towards that goal until my final day in office. And then I will step aside, confident I have done the right thing."
Main image © Racing Fotos