Animal Health Trust's Sue Dyson wins place in International Equine Veterinarians Hall of Fame for contribution to hoof care.
The head of clinical orthopaedics at the Animal Health Trust has been inducted into the International Equine Veterinarians Hall of Fame.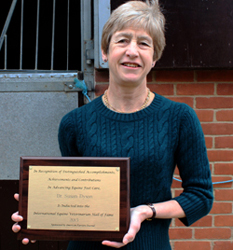 Sue Dyson has been recognised for her contribution to hoof care in horses.
Established in 1997, the International Equine Veterinarians Hall of Fame honours vets who have contributed to the knowledge and recognition of proper hoof care for horses.
Dr Dyson has lectured internationally and is known for her clinical work with horses and an extensive research record. She has published more than 200 papers on lameness and diagnostic imaging in scientific journals and co-authored several veterinary textbooks, as well as training and competing as a high-level rider in international events.
Dr Dyson said: "I was completely surprised, but absolutely thrilled, to learn that I had been selected to join the distinguished list of people who have previously been appointed to the International Equine Veterinarians Hall of Fame.
"I think it is very humbling to recognise that, despite the knowledge that my team and I have amassed in the last 30 years, there is so much more to learn. From every new finding come many more questions. I hope that the enthusiastic dedication of my team will continue to result in learning and discovering more, and inspire others to do likewise, to the ultimate benefit of the welfare of our great friend, the horse."
Dr Dyson has worked at the AHT for 30 years and is currently researching the association between hindlimb lameness and saddle slip.