The Horse Trust has aired concerns that the equine industry may not be offered a place on the proposed partnership board, should ministers approve RCS advisory group recommendations.
The Horse Trust has aired concerns that the equine industry may not be offered a place on the partnership board recommended in the final report of the RCS advisory group.
DEFRA's responsibility and cost sharing (RCS) advisory group published its recommendations to ministers on Monday, and one key recommendation of the report was to create a new partnership board, bringing together DEFRA officials and external members from various sectors including the farming sector.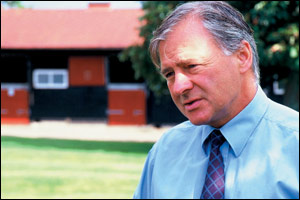 The Horse Trust welcomed the report, but raised concerns that the equine industry would not get a place on this partnership board, despite the contribution it makes to the UK economy.
Paul Jepson, specialist policy consultant at The Horse Trust, said: "The report thankfully reinforces the inseparability of health and welfare and endorses the path that the horse industry and Government embarked on a few years ago with collaboration as the cornerstone.
"The proposed partnership board of industry experts and DEFRA to drive policy and strategy for the whole animal sector is of concern. It seems unlikely that the horse industry will merit a seat at the top table of this board despite contributing an estimated £7billion to the UK economy."
Explaining the reason for his concerns, Mr Jepson told vetsonline: "We have already made representation and the eventual composition of the board is yet to be decided – but the initial, unqualified sentiment was that responsibility for horse interests would be given to a dual/treble hatted board member. There are only 12 places in total on the proposed board."
Mr Jepson pointed out that equine welfare charities like The Horse Trust, which leads the Equine Health and Welfare Strategy group, have led the way in developing a strategy to improve equine health and welfare.
Mr Jepson said: "The burden of formulating and implementing strategy to improve health and welfare already falls heavily on the equine industry, primarily the welfare charity sector and BEVA. This is manifest in the Equine Health and Welfare Strategy which was launched with the support of DEFRA and its devolved government partners in 2007."
However, Mr Jepson said the RCS advisory group's decision to reject the idea of a general animal disease levy was "great news for horse owners".