The European Advisory Board on Cat Diseases (ABCD) is inviting applications for the 2016 ABCD and Merial Young Scientist Clinical and Research Awards (AMYSA).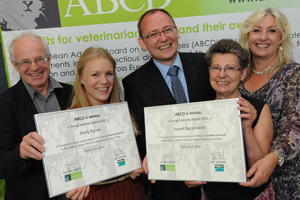 The awards aim to reward innovative and outstanding work by promising young professionals in the field of feline infectious diseases and/or immunology.
Two awards will be presented – one for research, the other for basic clinical investigation. The jury of ABCD members will decide to which category a submission should be assigned.
Candidates should have made an original contribution to the field of feline infectious diseases and/or immunology that has been published or accepted for publication in a referenced journal (PubMed, Web of Science, Web of Knowledge), or accepted by another assessing body (for example, a Thesis Committee) in 2014 or later.
The awards of €1,000 each (£710) are funded by Merial and will be presented by the ABCD at the congress of the International Society of Feline Medicine, from 29 June to 3 July 2016 in Malta.
The winners will receive a complimentary registration to this congress. Return travel expenses and accommodation will also be covered. The winners are expected to give a short presentation or present a poster of their findings at this event.
The recipients of the Clinical and Research AMYSA 2015 were Paweł Bęczkowski (University of Glasgow, UK) and Emily Porter (Bristol University, UK).