The European Journal of Companion Animal Practice (EJCAP) winter 2015 issue is now available online.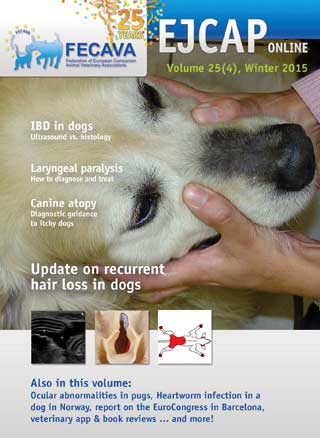 It features diagnosis of canine atopy (Patrick Hensel et al), description of seasonal or recurrent flank alopecia (Sophie Vandenabeele et al) and an audio presentation by Danny Scott on feline atopy.
The issue also includes interactive CPD papers – both at refresher and state-of-the-art level – and papers on the management of laryngeal paralysis (Adriaan Kitshoff et al), the most common eye diseases in pugs (Marion Krecny et al), a case report of a dog with heartworm in Norway (Liva Vatne) and a comparison of ultrasound and histopathology as a diagnostic tool of canine inflammatory bowel disease (Miriam Martinez et al).
The interactive edition also contains an audio lecture by Søren Boyle on pneumothorax (presented at BSAVA Congress 2015) and a souvenir slideshow of the Southern European Veterinary Conference.
Other features include a quarterly review of veterinary apps and books, as well as the Federation of European Companion Animal Veterinary Associations Eurocongress and global news, new board members and award winners.
Access is open to all veterinary practitioners, students and nurses in Europe and beyond, and is compatible for viewing on tablets.
For more details, visit www.ejcap.org