A new experience at Edinburgh Zoo will see thrill-seeking vistors feeding and learning about its two Asian lions Kamlesh and Jayendra.
Thrill-seeking visitors can get up close and personal to two kings of the animal kingdom in a new experience at Edinburgh Zoo.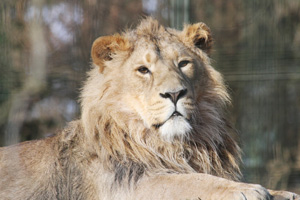 During the experience, called "Carnivore Magic Moment", visitors will be able to feed meat to Asian lions Jayendra and Kamlesh from a well-held feeding pole. And as each "magic moment" is limited to just two people, the experience promises to not only be exciting, says the zoo, but intimate too.
Keeper experience presenter Erika Oulton said: "The Carnivore Magic Moment is an unforgettable experience. You get to learn so much about these extremely powerful and highly endangered animals. During the feeding you get to see the lions' unique personalities and truly understand their size and strength."
During the experience, visitors will also learn about the history of the two lions, the importance of conservation and the difference between Asian and African lions.
Kamlesh, the female lion, arrived at Edinburgh Zoo in 2003 from Chessington World of Adventures. Jayendra, a young male born in 2010, joined her in June 2012. It is hoped Jayendra will become a mate for Kamlesh when he has fully matured.
The Asian lion is critically endangered, with only around 175 mature animals left, mainly located in India's Gir Forest.