Veterinary nursing students are travelling to India next month (November) to help raise standards of care for sick animals.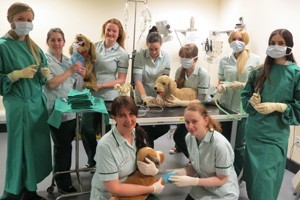 They will share knowledge and demonstrate clinical techniques and interventions that can significantly improve animals' quality of life.
Experts from the University of Edinburgh's Jeanne Marchig International Centre for Animal Welfare Education (JMICAWE) will be joined by students from Edinburgh Napier University on the 10-day trip to Kerala Veterinary and Animal Sciences University (KVASU).
They hope to raise awareness of the vital role of veterinary nurses in improving care for animals that require medical attention. There is no officially recognised veterinary nurse training scheme or qualification in India, despite the country's booming pet population.
The Edinburgh team of vets, veterinary nurses and animal welfare scientists will work with colleagues in Kerala to provide training in animal care. They will demonstrate how vets and veterinary nurses can work side by side to properly prepare animals for surgery. They will also share best practices in hygiene and infection control and explain how to recognise and manage pain in animals.
In return, the Edinburgh students will benefit from being exposed to veterinary practices in a different environment, tackling problems they may not have encountered elsewhere.
KVASU is one of India's most respected veterinary universities and delivers national annual workshops on animal welfare teaching in conjunction with the University of Edinburgh. A workshop will also take place in November.
The students, who are fund-raising for the trip, will track their experiences on a blog.
David Smith, veterinary nursing programme leader at Edinburgh Napier University, said developments in veterinary training institutes across the world often concentrated on investments in technologically advanced equipment and training of veterinary surgeons.
"However, good welfare of hospitalised animals starts before the consultation room and long after medical or surgical intervention; this is the domain of the veterinary nurse," he said.
Hayley Walters, welfare veterinary nurse at JMICAWE, said: "An animal's experience can be improved dramatically when nursing care is provided by a knowledgeable, well trained and compassionate individual. Veterinary nurses are in the perfect position to do this."
Natalie Maxwell, one of the VN students on the trip, said: "We are excited to have the opportunity to learn from our colleagues in India and to experience caring for animals in an environment that brings challenges we haven't faced before."