An online MSc in Veterinary Anaesthesia and Analgesia has been added to the University of Edinburgh Royal (Dick) School of Veterinary Studies' master's programmes and online CPD.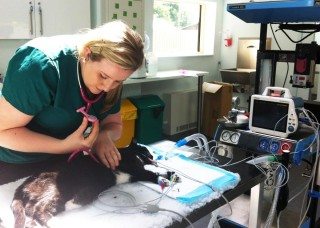 The distance learning programme is designed to be a flexible, part-time method of study to fit around other work or family commitments, and to improve knowledge of anaesthesia while working in an associated field.
With the growth of degree veterinary nursing programmes, the MSc is also open to non-veterinary graduates with appropriate experience in anaesthesia, enabling graduate nurses to gain a high level postgraduate qualification.
What's involved
The programme consists of a foundation of core courses, followed by a choice of different species courses. Later in the programme, students can choose from a range of courses in more advanced areas to tailor the programme to their interests.
The final part of the MSc is the dissertation year, which could be a research project, extended literature review or other piece of analytical written work.
Many options
Many options for the dissertation are possible, subject to approval. Students could opt to take the foundation and two species courses for a postgraduate certificate, or take optional courses in addition without the dissertation, and qualify with a postgraduate diploma.
For more information, visit www.ed.ac.uk/vet/veterinary-anaesthesia or email msc-vaa@ed.ac.uk