Name change for a leading UK supplier of veterinary products and services underscores company's global commitment to animal health practitioners. Company offers expanded products and services.
Dunlops, a leading supplier of veterinary products and services in the United Kingdom, has announced that the company has changed its name to Henry Schein Animal Health.
Managing director David Hinton said: "As we change our name to Henry Schein Animal Health, we also reaffirm our company's strong commitment to offer a comprehensive array of products and services to help animal health practitioners in the UK operate more efficient and successful practices, and provide the best quality patient care.
"We have a new name, but we have the same strong team, the same values, and the same dedication to providing excellent service to our customers."
Dumfries based Dunlops was founded in 1921 to serve the pharmaceuticals, equipment, pet food and veterinary disposables needs of the UK veterinary profession and wider animal health profession. It has been a subsidiary of Henry Schein, Inc. since 2007.
Henry Schein is the leading Pan-European distributor of animal health products and services, serving more than 18,000 veterinary customers through operations across eight European countries. The company's global animal health business, which includes operations in the United States, Australia and New Zealand, serves approximately 52,000 veterinary customers.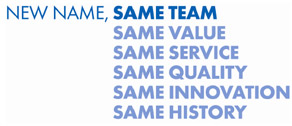 Michael Zack, president of Henry Schein's international group, said: "Our customers will continue to benefit from the local expertise of the same great team in the United Kingdom. 'Dunlops' change to the Henry Schein Animal Health name reinforces the expanded resources, products and services that the Henry Schein global brand provides. In a sense, our customers get the 'best of both worlds.' "
Henry Schein Animal Health's expanded offerings include:
VetLink: a new e-commerce web site system that enables veterinarians to easily access the growing internet sector, allowing them to sell anything from pet prescriptions to accessories online, to be delivered to their customers' homes by Henry Schein Animal Health.
Thrive: a new veterinary business analysis service that integrates with practice management software to use a Key Performance Indicator based approach that provides insight into a veterinarian's practice and identifies areas where they can enhance their business.
Dunlops announced the company's name change to Henry Schein Animal Health at the London Vet Show and the BCVA Congress, two leading veterinary shows in the United Kingdom.