The clinical director of the RVC's small animal referral service has received a second award in recognition of his ground-breaking work.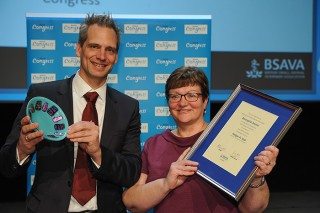 After winning the Bourgelat Award at the BSAVA Awards, held during BSAVA Congress, Holger Volk received the International Prize at the International Canine Health Awards – one of the most prestigious veterinary awards in Europe.
The awards, run by The Kennel Club Charitable Trust, honours individuals who go the extra mile to promote the health and well-being of dogs.
Prof Volk received £40,000, as part of the prize, towards his active research programme.
Outstanding contributions
He received the BSAVA's Bourgelat Award for "primary international recognition for really outstanding contributions to the field of small animal practice".
Prof Volk, who was one of the youngest at the RVC to be made a chairman in his field of neurology and neurosurgery, is also president of the European College of Veterinary Neurology.