Graham Avent and Jon Monie team up to raise £500 for Bath Cats and Dogs Home.
Bath Cats and Dogs Home should be laughing all the way to the bank after receiving a donation from an unlikely source.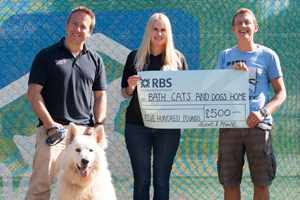 Graham Avent from the Bath Vet Group re-united with his old double act partner and star of Bath Theatre Royal pantomimes Jon Monie, to perform a two night comedy evening to raise funds for the charity.
Having met at school, Graham and Jon's act saw them tour the country as well as notching up numerous television appearances before deciding to go their separate ways.
But it's clear they still had the old magic, with more than 250 people packing the Ustinov Studio to witness the big reunion and help raise £500 for the home.
"Avent and Monie – Back for Good" was produced by MAST Stage productions and ran at the Ustinov Studio in June, raising funds for both the cats and dogs home and the Theatre Royal Fundraisers appeal.
Graham said: "It was a great way to raise some money for the charity which I have been involved with since Bath Vet Group became the resident vets at the home last October."
Jon added: "I was also thrilled to be a part of the event. It gave us an opportunity to air the worst pun ever when we announced on stage who the fundraising was for – 'something for the staff of luvvies and something for the love of staffies' – and yes, they did groan."
And the event went so well the dynamic duo look set to continue down the comeback trail next year when they perform at the Edinburgh Festival.