A charity vet nurse has been crowned Blue Cross Veterinary Nurse of the Year 2015.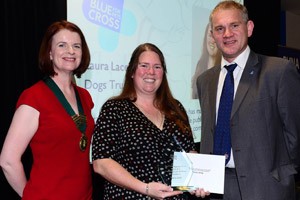 RVN Laura Lacey, regional campaigns and education nurse for Dogs Trust in north Wales, was nominated for her work educating pet owners and for her commitment to animal welfare.
"I'm overwhelmed to have been nominated for the award, let alone win it," she said. "I'm flattered and grateful to those who put my name forward."
Laura, who lives in Chester, spends a lot of time on the road working on Dogs Trust's microchipping campaign.
"It gives me a great opportunity to talk to owners and interact with people, educating them about animal welfare and so on," she said.
"Over the last two years we have microchipped more than 18,500 dogs."
Laura received her award from David Catlow, Blue Cross head of veterinary clinical services. He said the standard of nominations was very high but Laura deserved her success.
"Blue Cross gives this annual award in recognition of the hard work of vet nurses across the UK and Laura is a very dedicated vet nurse who really goes that extra mile to improve the lives of pets and support their owners," he said.