As autumn approaches, the Animal Health Trust has issued new advice for dog walkers against Seasonal Canine Illness.
The Animal Health Trust (AHT) has warned dog owners to stay vigilant for the signs of seasonal canine illness (SCI), a mystery illness has caused a number of dogs walked in woodlands to suddenly become ill.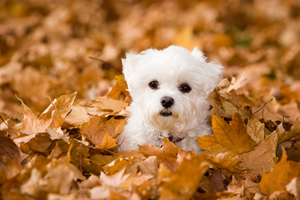 Cases of SCI are usually seen from August to November, with dogs showing clinical signs of vomiting, diarrhoea and/or lethargy within 24 to 72 hours of walking in woodland.
Dog owners are advised to seek immediate veterinary advice should they see these signs in their dog following a woodland walk.
The AHT has been investigating SCI since the end of 2010 at five sites across Norfolk, Nottinghamshire and Suffolk.
Charlotte Robin, SCI research coordinator at the AHT, said: "We've had a fantastic response to our request for information from dog owners who have walked at our study sites, but unfortunately this information doesn't yet point to a definitive cause.
"We're delighted that since our investigation started fewer dogs have died from SCI. We hope this is due to increased awareness of the condition and that dog owners now know to contact a vet for advice if they spot any of the clinical signs.
Information provided to us certainly shows that if dogs get veterinary treatment quickly for SCI signs, they tend to recover within seven-10 days."
Despite no definite cause being recognised, the AHT has identified a number of common themes that may increase a dog's susceptibility to SCI.
Charlotte added: "A number of cases reported to us have had an infestation of harvest mites. Similarly, our evidence shows dogs that have travelled further to one of the study sites have more chance of developing SCI.
"At the moment we do not know if this is an effect of potential immunity in local dogs, or another factor due to dogs travelling long distances."
The AHT is advising dog owners planning to visit woodlands this autumn to ensure that their pets are up-to-date with preventive treatments for external parasites.
Products available without prescription may not offer sufficient protection against mites, so please contact your local vet to discuss which options are suitable.