A stunning shot of a veteran rescue dog at work at a lake in Suffolkhas been announced as the winner of the Kennel Club's glittering annualDog Photographer of the Year award for 2009.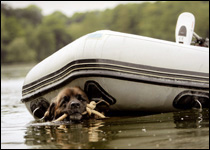 Tom, a 10 year old Leonberger from Great Yarmouth, Norfolk, was captured pulling a boat to safety as part of a training exercise in a lake in Weybread, Suffolk, by professional photographer Terry Pover.
The photograph was entered as part of the "Dogs at Work" category of the award, and was deemed to be the overall best shot from a bumper crop of entries by an esteemed panel of judges at the Kennel Club, which included professional dog photographers.
Terry took the shot as part of an accredited test held by the Leonberger Club of Great Britain every year, designed to challenge a dog's ability to pull boats inland to save people. Tom is the current Leonberger water champion and is believed to be the only dog in the UK to have passed all of the relevant water tests put in front of him.
Terry, a retired police officer, is a graduate from the Norwich School of Photography and is a Licentiate member of the Royal Photographic Society. His winning image will be reproduced on the front cover of theDecember edition of the Kennel Club's flagship publication, the Kennel Gazette.
He said: "I'm delighted to have won this award. Thefact that Tom is doing what he loves at such a ripe old age is amazing.To capture the joy of his work and to have the Kennel Club acknowledgethis in an award is something very special. And they say you can'tteach an old dog new tricks."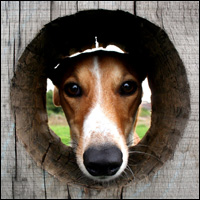 Caroline Kisko, communications director at the Kennel Club, said: "This is a truly remarkablephotograph and congratulations to Terry. Leonbergers are a strong,powerful breed and to capture Tom doing what he was meant to do in suchan amazing shot makes Terry a very worthy winner."
Terry's photograph, along with the winning images from the other categories "Dogs at Play" (Sarah Middleton from Derby), "Dog Portrait" (Liana Philips from Dundee) and "Man's Best Friend" (Nicola McClure from Edinburgh), will be displayed at London's leading dog event, Discover Dogs on 14th and 15th November 2009 at Earls Court.
There was also a category for children under the age of 16 entitled "I love dogs because…", won by Maisie Furneaux from Dyserth, North Wales. As part of her prize, Maisie will spend a day out with professional dog photographer Marc Henrie.
All winning pictures from the KennelClub's Dog Photographer of the Year 2009competition can be viewed on flickr.