A veterinary nurse has spoken of her happiness at seeing a dog recover from "one of the biggest wounds" the veterinary team had seen.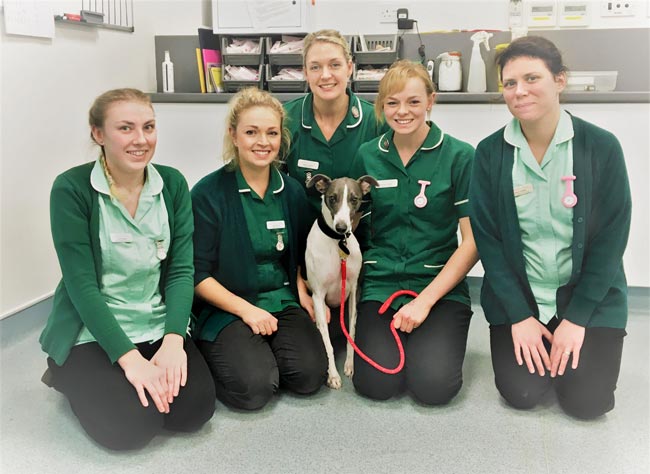 Jasper the whippet suffered severe lacerations to the skin on his back when he got caught in barbed wired hidden in undergrowth and bushes near his owner's garden.
Constant companion
The dog lives with owners Penny and Stuart Harper in Market Harborough, Leicestershire, and is a constant companion to Mr Harper, who is paralysed from the waist down.
Mrs Harper found Jasper lying injured and took him to Town and Country Veterinary Centre in Market Harborough.
Head nurse Harriet Goulden said: "When we first saw Jasper's injury, even we were shocked. He suffered a horrific skin wound to his back – one of the largest wounds we had seen. To give a sense of scale, you could have fitted a large orange and apple into the torn skin. He must have been in terrible pain.
"Jasper's back was so ripped up by barbed wire, we had to wound manage it with debridement and bandaging initially, as suturing it wasn't even an option."
Hospitalised for 10 days
Jasper was hospitalised for 10 days and had to return to the practice for daily dressing changes for several more weeks. By the end of November, the wound was small enough to be left open so it could heal over.
Miss Goulden said: "Fortunately, looking at him now, you would hardly know he had been so hurt. He looks absolutely brilliant and we are delighted to have played a part in nursing him back to his rightful place at Mr Harper's side.
"Mrs Harper has been fantastic throughout and it was clear right from the outset she would never give up on Jasper. We wish them all a very happy and peaceful Christmas together."
Mrs Harper said: "It's been a long journey, but the vets and nursing team have saved his life and we will always be grateful to them."