Vets at Huyton PDSA PetAid hospital in Liverpool had to act quickly when Harvey, a six-month old Shar Pei, was rushed in with severe pain and vomiting.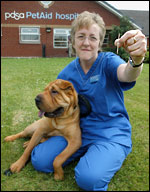 Harvey required immediate treatment to discover the problem, which turned out to be a cocktail stick that had perforated his intestines,causing potentially fatal peritonitis.
PDSA senior veterinary surgeon, Chris Symonds, said: "Harvey is lucky to be alive. He was seriously ill and could have died at any time. The initial x-rays didn't provide a definite diagnosis but I was suspicious because his abdomen was so tender.
"The x-rays showed a lack of detail, indicating the likelihood of free abdominal fluid, so we decided to carry out an emergency laparotomy. It was only then that the true extent of his condition was discovered. His intestine had been pierced by a cocktail stick.
"This had lead to Harvey developing peritonitis, which had also caused his intestines to adhere together. As well as removing the wooden stick, a thorough lavage of the abdomen was required."
There was concern about Harvey's condition following surgery but after intensive treatment he was able to be discharged the next day, subject to regular check-ups.
Harvey's owner, Mrs Alice Carr, said: "I can't thank PDSA enough. Harvey started being sick a couple of days earlier but I didn't think it was anything to worry about at first. Once I realised he was in pain I took him straight away to PDSA who said that he was critically ill."
She added: "I am so happy he's pulled through. Harvey is such a lovely dog and is going from strength to strength now. Everyone at Huyton PetAid hospital has been so wonderful."