One of the country's pre-eminent equine stud vets, John Newcombe, has joined the University of Nottingham School of Veterinary Medicine and Science as a honorary professor.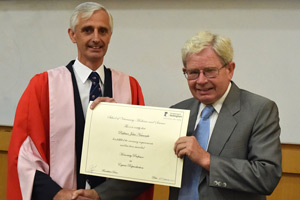 Professor Newcombe is distinguished in the world of equine reproduction and physiology. He has published widely in international peer-reviewed journals and books, as well as teaching, presenting at global conferences and running his own practice for the past 40 years.
Dean of the vet school Gary England said: "We are delighted to install John Newcombe as honorary professor at our annual welcome ceremony and prize-giving.
"He has huge experience in training veterinary undergraduates who have 'seen practice' with him over the years, as well as his contribution to doctoral research projects and postgraduate clinical training of veterinary surgeons. Our students and staff will be benefitting greatly from his expertise in the years to come."