Discover Dogs, London's biggest event on four legs, is returning onNovember 14 and 15 and is being billed as the biggest and best ever.
The event moves to its new home in Earls Court 1.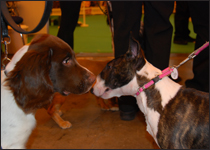 Organised by The Kennel Club (KC), Discover Dogs is moving from its former home in Earls Court 2 to the bigger venue, following the huge success of last year's event. The move will mean that there is even more room to showcase the wonderful world of dogs.
Sponsored by Royal Canin, Discover Dogs is, says the KC, a unique platform to celebrate dogs in our society and educate dog lovers about more than 190 breeds of pedigree dog, which will be at the event for visitors to meet and greet.
This year, the KC will be welcoming children under 12 into the extravaganza for free.
Caroline Kisko, KC communications director, said: "Discover Dogs is an important event for The Kennel Club and dogs in general, as it allows us to reach and educate prospective dog owners about the importance of responsible dog ownership and choosing the right breed for them.
"Pre-audit estimates showed us that last year's event attracted more than 26,000 visitors and so the move to Earls Court 1 celebrates the continued success of the event and the love that people have for pedigree dogs.
"The Kennel Club recognises the importance of the event to the dog buying public and hopes that by offering free entry for children under 12 we can make it even more affordable for a very enjoyable family day out."
Health will be at the heart of the event, with a zone dedicated to providing information to prospective owners on the importance of buying from a KC accredited breeder and information on The Kennel Club Charitable Trust, which has dedicated more than £500,000 to dog health over the next two years, as well as raising and distributing funds to many worthy dog causes.
For further information on the event, visit www.discoverdogs.org.uk or telephone 020 7518 1012.