Davies Veterinary Specialists has chosen Medical Detection Dogs (MDD) as its charity of the year.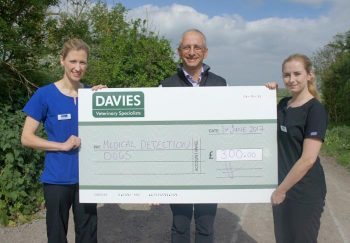 The small animal referral practice based in Higham Gobion, Hertfordshire, will run a series of special fund-raising projects for MDD over the next 12 months.
However, the team has already made a start, raising £300 by hosting a workshop for canine athletes.
Life-threatening conditions
Each year, Davies staff choose a charity of the year and team members collect as much cash as they can for their chosen organisation. Last year, the team donated £5,500 to Target Ovarian Cancer.
MDD trains dogs to help people with life-threatening medical conditions and is at the forefront of the research into the fight against cancer, as bio-detection dogs are trained to detect the odour of human diseases in samples of urine, breath and swabs.
No government funding
Medical alert assistance dogs are also trained to detect minute changes in an individual's personal odour triggered by their disease and alert them to an impending medical event.
The charity receives no government funding for its work and relies entirely on donations from trusts and the public.