DEFRA is seeking to consult on advice for owners ofnon-human primates, which has been published today in a proposed new code of practice.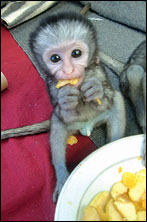 The proposed code highlights existing legal requirements for keepersunder the Animal Welfare Act 2006 and includes practical advice on howto:
Create a suitable environment for privately held non-human primates;
Provide a healthy diet;
Spot signs of stress;
Protect the animals from pain, suffering, injury and disease.
The code was drawn up by a working group (including owners, vets and animal welfare groups) put together by DEFRA in response to concerns that non-human primates were readily available without buyers knowing enough about the animals' welfare needs.
The primate family includes familiar animals such as chimpanzees, gorillas, and monkeys, as well as lesser known lemurs, lorises, galagos, pottos, sifakas, indris, aye-ayes and tarsiers. According to DEFRA, there are an estimated 1,200 non-human primates kept privately in England.
The code, which applies to England only, will also help law courts with cases brought before them.
The deadline for responses is November 30. Consultation documents are online at: www.defra.gov.uk/corporate/consult/welfare-cop-primates/index.htm