More than 180,000 cattle have now been slaughtered since January 2008 as part of Government bTB eradication policy.
The number of cattle slaughtered because of bovine tuberculosis (bTB) has risen again, with the total number culled in Great Britain between January 2008 and January 2013 now standing at 186,664.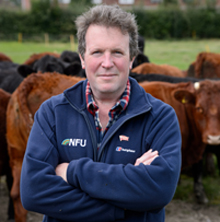 New figures released by Defra yesterday (April 17, 2013), show 3,215 cattle were slaughtered in January, meaning a 24.2% rise on the same time last year. Month-on-month figures also show a jump.
In Wales the picture has worsened considerably, despite a vaccination programme for badgers that began in 2012. The number of cattle compulsorily slaughtered there was 819 in January 2013, compared with 419 for the same period in 2012 – an increase of 95.4%.
Last month's official bTB statistics also showed a 10% increase in cattle lost to bTB for the whole of Great Britain from 2011 to 2012. More than 38,000 cattle were  compulsorily slaughtered because of the disease in 2012 – and more than 28,000 in England alone.
NFU vice president Adam Quinney said: "With 2012 also recording the highest number of cattle slaughtered in England to bTB in a decade, they show more and more farmers are battling TB on their farms. These figures make awful reading.
"I am a cattle farmer and I know these numbers have increased despite additional cattle controls, more pre-movement testing and stricter on-farm biosecurity measures which were introduced in July last year. New tough on-farm rules were also introduced in January 2013 as part of the Government's TB eradication plan which aims to tackle all aspects of TB infection in the countryside.
"We are playing our part in solving this terrible disease but I remain convinced by the research both here and abroad that shows that wildlife management is essential if we are to successfully tackle TB."