The grim reality of illegal puppy farms has been exposed in a series of harrowing images showing a dead puppy "dumping ground" in the verge of a quiet country lane.
The images, taken by RSPCA inspectors, show the bodies of nine pups callously strewn among rubbish in the undergrowth.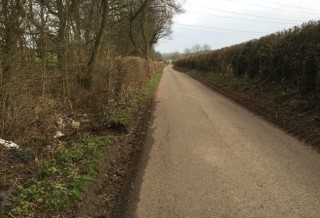 An examination of the scene revealed the bodies of at least three other dogs in various states of decomposition, plus fur and skeletal remains. No attempt had been made to hide them.
Horrific find
A member of the public spotted the bodies – thought to be a mix of terriers and collie-types aged between six to eight months – dumped in a ditch in Hogg End Lane, St Albans, Hertfordshire, and called in the animal charity.
RSPCA animal collection officer Kate Wright said: "We had reports of collapsed puppies in a ditch and I rushed over to the site and there they were. There had been no effort to cover them up. They were obviously already dead and had been dead for a day or two.
"They were all covered in sawdust and some looked skinny. The little pads on their paws were red raw like they'd been living in urine. They absolutely stank.
"I had a look around the area and, in the same ditch, I found decomposed corpses, bones and fur. I realised, with horror, this ditch is obviously used on a regular basis – it was heartbreaking.
"There was nothing to suggest how these puppies had died. My immediate thought was they had come from some sort of puppy farm."
Dumping ground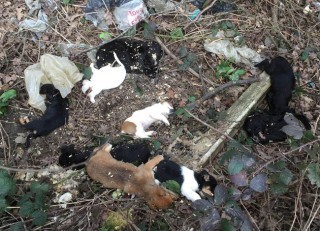 In January, the RSPCA was called to the area after the bodies of puppies were found inside a suitcase that was taken away by police. Remains were also found at the site last autumn.
RSPCA canine focus officer Rachel Smith, who is investigating the case, advised members of the public to be vigilant if buying a puppy.
She said: "My advice for the consumer would be if something doesn't seem right, don't buy the puppy. Walk away and contact us or the local authority immediately.
"We are working alongside other agencies, such as the police and Trading Standards, to try to tackle this abhorrent trade in innocent lives – but it's everyone's responsibility to help us uncover these unscrupulous breeders and to help us bring a halt to this illegal and unregulated industry.
"The reality is if we don't work together to fight the trade, more sick puppies will not receive the care they need and could end up dumped in this manner.
"These breeders and dealers don't care about the welfare of these dogs, they only care about the money."