Hertfordshire-based small animal referral practice donates 50,000 rabies vaccines to help fight disease in India.
Davies Veterinary Specialists (DVS) has pledged its support for Mission Rabies, India.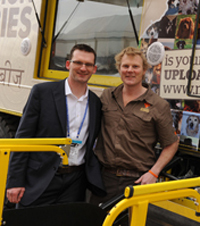 The Hertfordshire-based small animal referral practice is donating 50,000 rabies vaccines to be used during the first month of the campaign, which launches this September.
In India it is estimated at least one child dies from rabies every hour, normally contracted from dog bites. Mission Rabies aims to establish India's first national rabies network to supply cheap, effective vaccines nationwide and monitor disease prevalence.
The campaign will also include surgical training programmes in rabies danger zones, to train local vets in the best field techniques for dog population and vaccination control. The intention is to vaccinate two million dogs in the key hotspot areas of India over the next three years.
Ian Battersby, a member of the DVS internal medicine team, is one of the organisers of the project, which is also supported by Dogs Trust, the World Small Animal Veterinary Association, the British Small Animal Veterinary Association and the Worldwide Veterinary Service.
He will be travelling to India in September with the full support of DVS staff who have planned numerous fund-raising events.
Energetic and innovative initiatives include marathons, evening talks to dog owners, a fund-raising choir concert and an online auction to members of the veterinary profession.
The auction will go live in June and lots will include in-house training seminars from members of the DVS clinical staff and gifts donated by local organisations.
DVS managing director Clive Elwood said: "This is a very important project delivering veterinary care and expertise that will have a real impact on human lives. We are delighted to be able to help such a worthwhile cause."