Cycling vets and their life-size model calves made a spectacular entryin to the Dairy Event and Livestock Show judging ring on September 16 to mark the completion of the XLVetscharity bike ride 2009.
The calves had been transported from Orkney in the north and Penzance in the south, with staff raising funds for the Royal Agricultural Benevolent Institution (RABI) and Farm Africa.
RABI president Lord Plumb was on hand to welcome them and receive a cheque for £10,000 from XLVets managing director David Black.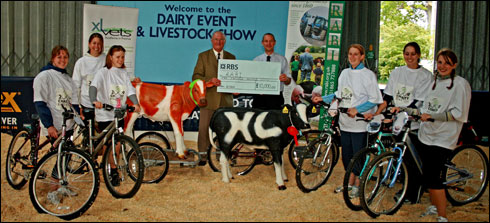 Lord Plumb said: "This is a great effort by XLVets staff across the country which has raised considerable awareness, as well as much needed funds, for two worthy charities. They are to be congratulated on the originality of the ride and thanked for giving their time and effort to support those in need in the farming industry."
Throughout August and September staff cycled between practices raising money for the two farming charities on the way. For full details of the journey of the cyclists and the calves visit the XLVets website.