Now in its fifth year, the CVS New Graduate Programme provides mentoring and a support network to college leavers, enabling them to build their skills base and confidence in order to get the best start in practice.
CVS is accepting applications for the fifth year of its new graduate programme, which offers support and guidance to veterinary graduates, enabling them to build their skills base and confidence in order to get the best start in practice.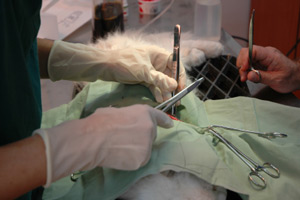 The CVS New Graduate Programme provides college leavers with mentoring at a one of the group's practices and a support network, with the opportunity to meet regularly with other new graduates to discuss how they are finding their new role and the cases they have experienced.
The programme will provide essential CPD in the areas that graduates will come across in practice that they may not have had much practical experience in while at university.
At a clinical level, new grads will be teamed up with experienced vets to support them with the day to day challenges of their first year in practice such as:
The consultation process
The first bitch spay
How to structure work-ups after initial clinical presentation
Interpretation of Radiographs
How to meet the needs of the client.
New graduates will also be given the opportunity to develop their confidence by carrying out both routine and the common non-routine surgical procedures, with full support from colleagues. They will also have access to, and training in medical diagnostics.
According to CVS, a strong emphasis is placed on learning and with the aid of nine days internal CPD this will guide you through areas such as:
Communication skills in the consulting room
Practical Dentistry
Exotics
Practical Ophthalmology
Dermatology
Common emergencies
Common surgical procedures
Further support is offered by assigning mentors from within the CVS veterinary team
The CVS new graduate scheme is now into its 5th year and this year a 2nd Year Scheme is being introduced due to popular demand. A record number of new graduates join the CVS scheme in 2012 (42 successful candidates were accepted).