A vet has saved the life of a cat that swallowed a 2in plastic cat from the Kitty in My Pocket children's toy range.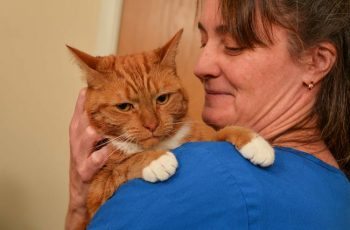 Veterinarian Ann Mee operated on Kitty, a four-year-old ginger tabby, after owners Paul and Michelle Grice rushed her to Manchester Vet Centre, run by the independently owned Willows Veterinary Group.
Foreign body
The cat had been increasingly poorly and an x-ray revealed a foreign body had become lodged in her abdomen.
When Dr Mee and her team operated, they discovered the toy cat wedged against Kitty's intestinal wall. It had already lacerated the tissue within the intestines and could have perforated the intestinal wall at any time, which would have proven fatal.
Hard plastic toy
Dr Mee said: "Sometimes, when we have a foreign body present, we can milk them through to the large intestines to allow the animal to pass it naturally. But this was a hard plastic toy with a prominent tail and ears, which had got caught in the intestinal wall. Any attempt to move it down would have ruptured the intestinal wall itself."
In the end, Dr Mee and her team had to open the intestinal wall surgically to remove the toy.
Amazing recovery
Dr Mee added: "Kitty has made an amazing recovery. We starved her after the operation for 36 hours to allow everything to settle down and then we fed her small meals to help her digestive system recover slowly and by then she was eating normally."
Mr Grice said he could not thank staff enough for what they had done to help his pet.
He said: "We're so grateful to them. It's all down to them she's still here, without a doubt.
"We had absolutely no idea that she'd swallowed anything and only found out as a result of the x-ray. What are the chances of a cat called Kitty swallowing a cat called Kitty?
"I have no idea where the toy cat came from and how she managed to eat it. I guess we will never know. She's never done anything like this before."