The credit crunch is potentially having a major impact on the health ofour nations' pets, according to a new survey commissioned by vet groupVets4Pets.
According to the group, the poll of 4,000 UK pet owners revealed that half of pet owners feel that the recession is having an adverse effect on their pet's healthcare, with a worrying quarter of owners putting off visiting their vets for routine check ups.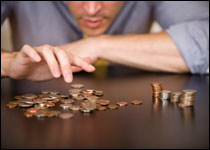 The tightening of purse strings has also led to a change in diet for many of our country's pets – with 40 per cent of owners changing their pet food purchasing habits. Some 18 per cent have switched to a cheaper product while 10 per cent now feed more scraps and leftovers to help cut costs.
But despite changing their pet's diet, many owners still don't appear concerned about the issue of pet obesity – with only 10 per cent knowing that some 50 per cent of pets in the UK are either overweight or obese (According to RSPCA figures). Also, despite the fact that most owners (75 per cent) think their pets are a healthy weight, only a third actually get their pets regularly weighed to ensure that this is the case.
Vets4Pets operations director Jeff Gascoyne said: "These results are particularly worrying, especially when the issue of pet obesity is already at a critical level. Forgoing routine veterinary appointments, feeding more scraps and switching to cheaper pet foods, which may have less nutritional value, could all have a detrimental effect on your pet's weight and general wellbeing.
"So, we would encourage pet owners to seek the advice of their local veterinary practice regarding appropriate diet and exercise tips for their animals, to help ensure that their pets are kept healthy and happy."
Vets4Pets is encouraging customers to take part in its 'Kilo Crunch Challenge' – an important initiative to help address the issue of pet obesity.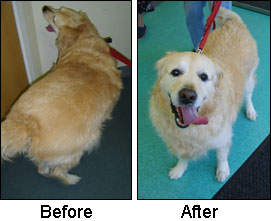 Customers will be invited to bring their pets in to take part in a free weight check consultation, where each pet will be weighed, and if necessary, will then be given a weight loss target together with appropriate diet and exercise advice. Every pet that achieves their target weight loss, before the end of the year, will automatically be entered into a free prize draw with prizes for each local Vets4Pets practice winner and an overall national prize of a pet friendly weekend break for two, together with a £250 Hills Nutrition Diet voucher.
Pictured is Duke, who weighed in excess of 10 stone (65kg) and haslost a significant amount of weight thanks to a healthy eating plan devised byvets4pets in Sheffield.
The challenge runs from until December 31 and all entrants will receive a Hill's £5 nutrition diet money off voucher. Contact your local Vets4Pets for details or visit www.vets4pets.com