Veterinary-owned CPD webinar provider The Webinar Vet has been named Echo Knowledge Business of the Year at the Liverpool Echo Regional Business Awards.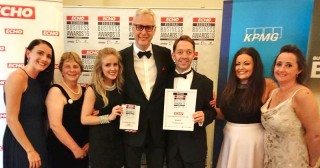 The company – owned and run by vet Anthony Chadwick – won the award after just sixth years of trading. It was presented to the company last night (23 June) at a glitzy awards ceremony at St George's Hall in Liverpool.
Accessible education
Mr Chadwick said: "The Webinar Vet was set up in 2010 and we now have nearly 30,000 vets and nurses in our community.
"We offer free and paid webinars to our membership community and can accommodate up to 1,000 attendees at a webinar. However, all lectures are recorded so vets and nurses can also access the recordings at their leisure.
"Our mission is to make veterinary education accessible and affordable to vets and nurses worldwide."
Great team
Mr Chadwick added: "We know how difficult it can be to fit everything in, and often have members telling us how we have helped them become less stressed in life because of the ease of finding CPD.
"Well done all the team – I'm very lucky to work with a great group."
According to the Liverpool Echo, its business awards – sponsored by KPMG, DLA Piper and Lloyds Bank – are "the biggest, best and longest-standing" of its kind in the Merseyside region, "with a long history of recognising and rewarding successful businesses across all sectors".