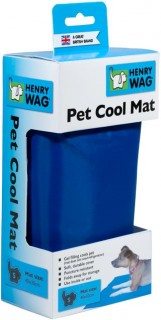 Pet products wholesaler 3P Enterprise has introduced a mat to help cool down cats and dogs in warm temperatures.
The Henry Wag Pet Cool Mat works without the need for refrigeration and contains an innovative, safe gel that gently draws heat away from a pet's body.
Pain relief
A spokesman said: "It is a simple way to keep pets cool in warm weather and can also provide relief for more elderly pets who suffer from painful joint inflammation.
"It can be used at home, in the car and when out and about together."
The Pet Cool Mat comes in four sizes and prices start at £9.99 (RRP).