BVA Congress saw a number of outstanding individuals receive official recognition of their services and contributions to the veterinary profession both overseas and within the UK.
BVA Congress saw a number of outstanding individuals receive official recognition of their services and contributions to the veterinary profession both overseas and within the UK.
The awards were announced and, in some cases, presented to recipients during an official awards ceremony at the BVA's Annual Congress in London on September 22. They were awarded to:
THE CHIRON AWARD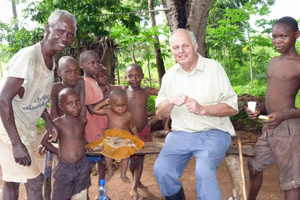 This award, which marks outstanding contributions to veterinary science or for outstanding services to the profession, judged in either case as being of a calibre commanding international or inter-professional recognition, was presented to Prof John E Cooper.
As a specialist pathologist with particular interest in wildlife and exotic species, tropical disease and comparative medicine, Prof Cooper has spent a lifetime in overseas activities and with an unerring commitment to fellow veterinary surgeons, veterinary students, biologists, pathologists and conservationists, especially those in other less fortunate parts of the world.
His dedication to the promotion of the role of animals and the role of the veterinary surgeon in health, education and research has been an outstanding service to the veterinary profession overseas and an inspiration to many in the UK.
THE DALRYMPLE-CHAMPNEYS CUP AND MEDAL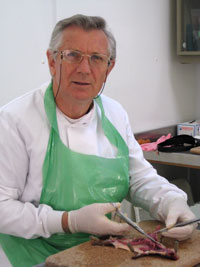 Vic Simpson was announced as the recipient of the BVA's most prestigious scientific award for his immense contributions to increasing the knowledge base of the pathology of wildlife species in Great Britain.
Involved in laboratory veterinary investigation for most of his working life Vic began his "retirement" in 2001 by setting up Britain's first ever Wildlife Veterinary Investigation Centre in partnership with the Cornwall Wildlife Trust. This laboratory has been invaluable for assessing the impact of environmental changes, chemicals and non-native species on indigenous wildlife.
Mr Simpson has identified diseases in wildlife species that have never been recognised before anywhere in the world. He has published numerous papers and his work has broadened the understanding of disease in wildlife, and has given an insight into the pressures on these species from other non-native animals and environmental influences.
THE TREVOR BLACKBURN AWARD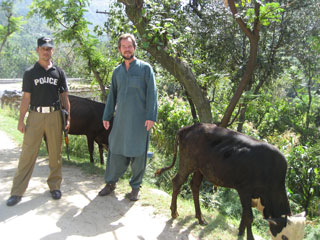 Tim Leyland was announced as the winner of the Trevor Blackburn Award in recognition of the dedication and professionalism he has shown to the strengthening of veterinary services in developing countries and for his work in providing veterinary services to communities in remote, marginalised and conflict-affected areas.
Mr Leyland has worked for more than 20 years in international development and research. His experience ranges from community-based projects, training of trainers, privatisation of veterinary service delivery in the developing world, to policy and legislative change at national and international levels.
THE HARRY STEELE-BODGER MEMORIAL SCHOLARSHIP TRAVEL AWARD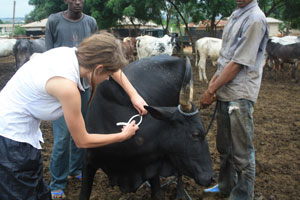 This grant enabled recipient Francesca Scott to undertake an elective project on the economics of bovine tuberculosis (TB) in the Greater Accra region of Ghana this summer. She investigated 300 head of cattle on farms, looking at the efficiency of tuberculin testing materials in Ghana relative to the UK and the demography of TB in herds.
Francesca also formulated an easy-to-use "wellness profile" for farmers to use. Her overall aim was to quantify the impact of TB on a cow's productivity and thus assess whether culling TB reactors was of greater economic value than keeping them in the herd as "lower performing" individuals.
STUDENT TRAVEL GRANTS
The BVA travel scholarship scheme awarded its 100th travel grant in World Veterinary Year. The scheme awards grants annually to veterinary students to enable them to undertake projects in developing countries.
The awards were introduced in 1983 as a positive and practical way to provide assistance where required and to enable students to gain invaluable experience in dealing with exotic diseases.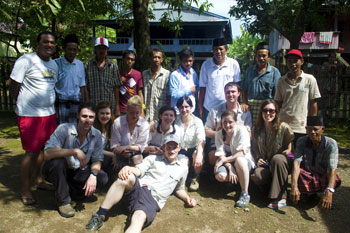 The 2011 student travel grants (of £500 each) were awarded to:
Jodie Hughes and Hayley Chidlow (Liverpool) jointly: a comparison of anaesthesia protocols and associated risks between Fiji and the UK.
Per Karlsson (Royal Veterinary College student research team): sustainable shrimp farming in Indonesia.
Clare Muir (Edinburgh): a study to determine the prevalence of gastrointestinal parasites in working mules in the Kaski province, Nepal.
Images courtesy BVA