Medical Detection Dogs and The Links Group get boost from generous congress delegates who attended SPVS/VPMA congress.
Veterinary congress delegates have raised more than £1,300 for two assistance animal charities.
At the VPMA/SPVS joint business and management congress in January 2013, delegates were asked to donate to charity during the event's banquet and dinner evening.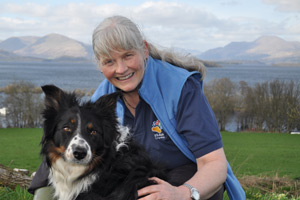 In total, they raised £1,310, which has been shared between Medical Detection Dogs, a charity that uses dogs to help people manage medical conditions, and
The Links Group, which promotes awareness of links between violence to humans and animals.
Receiving a cheque from outgoing SPVS president Gudrun Ravetz, Links Group chairman Freda Scott-Park said: "We're so grateful for this donation, which will go directly towards helping to raise awareness of the links between the abuse of children, vulnerable adults and animals."
She added: "This year we are rolling out our programme of training in collaboration with Medics against Violence for veterinary practices, to teach them how to recognise signs of domestic and animal abuse and more
importantly still, what to do if they are presented with such a scenario."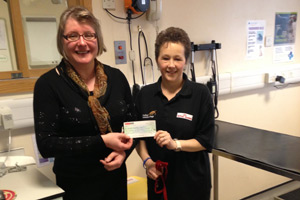 Meanwhile, VPMA past president Pauline Graham presented Medical Detection Dogs with its cheque.
Ms Graham said: "Medical alert dogs are already out there helping in the management of diabetes and other debilitating diseases, as well as participating in research into the early detection of cancers."
She added: "I felt practice managers would very much want to support and promote this great cause. So I'm over the moon to be able to present this donation on behalf of the VPMA and thank everyone for their generosity."