Important concessions promoted by the Welsh Assembly Government havebeen secured against the requirements of CouncilRegulation 21/2004 – electronic identification (EID) of sheep.
The latest amendment to the regulation means that the majority of farmers will not have to use the new EID technology unless they choose to do so. This is because the amendment allows critical control points, such as livestock markets and abattoirs, to provide farmers with a list of individual identities, immediately following the movement of sheep. This is known as 3rd party recording.
Negotiations have been extremely difficult and it is apparent that this latest amendment is likely to be the final change secured by the UK prior to the regulation being implemented. There remains little or no support elsewhere in Europe for making EID entirely voluntary so farmers must now focus on implementing the requirements of the regulation by the end of this year.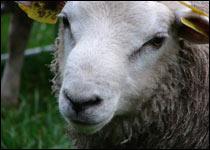 Importantly, the latest amendments also include provision for multiple pick-ups, which occur when a single vehicle picks up a number of batches of sheep from different farms, as is often the case in rural Wales.
The original proposal envisaged batches of animals from different farms having to travel in separate vehicles. This would have resulted in significant cost and environmental implications across the UK and would have particularly affected rural Wales.
Welsh rural affairs minister Elin Jones said: "It is disappointing that we have not been able to gather sufficient support from other Member States to make EID entirely voluntary. However the latest amendments, which include multiple pick-ups as part of the 3rd party reporting provisions, are a major step forward and will significantly reduce the impact this Regulation has on farmers in Wales when it is introduced at the end of this year."
The Welsh Assembly Government consultation on the Electronic Identification (EID) of sheep closes on July 31. Copies of the consolation are available here.