New surgery, based in the Lisburn, County Down branch of Pets at Home, features the latest state of the art equipment and is to be run by veterinary nurse Christina Palmer and her veterinary surgeon husband Barry Palmer.
Companion Care Vets has opened its first surgery in Northern Ireland.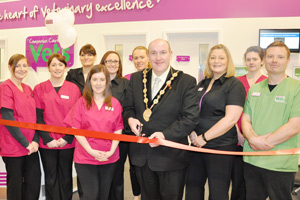 Located in the Pets at Home store in Lisburn, County Down, the surgery was opened on October 25 (2012) by the the mayor of Lisburn, William Leathem. The surgery is being run by joint venture partner and veterinary nurse Christina Palmer and her husband Barry Palmer, veterinary surgeon.
The surgery has been launched with the new Companion Care Vets brand and is equipped with "state of the art" facilities, including digital x-ray facilities, an in-house laboratory and isolation unit.
Mrs Palmer said: "I am thrilled to be at the helm of the first Companion Care surgery in Northern Ireland. I have more than 12 years' experience in nursing and have worked in both small animal and mixed practice. I enjoy all aspects of veterinary medicine and surgery, but have a particular interest in animal welfare and behaviour."
Meanwhile, Jane Balmain, managing director of Companion Care Vets, said: "The year 2012 has been quite a year for the business. Opening our first surgery in Northern Ireland comes towards the end of a year that saw us named as one of The Sunday Times' 100 Best Companies to Work For. We also employed our 1,000th team member and have over 100 surgeries open.
"Our continued success and growth is testament to the hard work and dedication of our fantastic team and I warmly welcome Barry and Christina."