The company's 2011 new graduates brought in more than £650,00 in their first year, and the intake scheme has now doubled in size.
A corporate-run programme to employ new graduates has doubled its intake after a successful first year.
Companion Care Vets launched its graduate programme in 2011 and the five original graduates are now into their second-year placement.
In their first 10 months in the job, from September 2011 to May 2012, the graduates generated more than £650,000.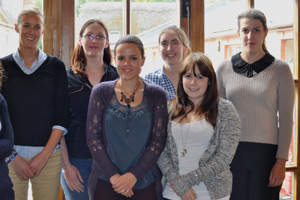 More than 80 people applied for the 2012 programme, and Companion Care has now announced it will be taking on 12 new graduates.
Commenting on his new graduate Natalie Brown, Jason Davidson, partner at Companion Care's Derby branch, said: "I have been very lucky with my graduate in that Natalie is very hard working and conscientious. She is very keen to learn and work up her cases correctly and thoroughly. She is also not afraid to try new techniques and learn from other team members.
"She was employed at a time when we were making the transition from a two-vet practice to three vets, and as her experience and confidence has grown so has her workload to the point where the work and income she is generating is more than covering the cost of employing her."
He said the entire practice team also benefited from Natalie's employment, as it meant a better week and weekend rota for staff.
Reflecting on her first year in practice, Natalie said: "When I started back in 2011, my day-to-day work was straight away routine vaccines and puppy and kitten consults. I started other consults slowly; vomiting, diarrhoea, etc, etc, until I was seeing the same cases as the other vets. It was a good way to learn, so I got used to the surgery, the price list, computers and drugs.
"I also got to perform lots of surgery and achieved my goal last year of performing a gastrostomy – a definite highlight."