Vets from online pet companies are calling for widespread collaborationto combat the predicted rise in animal abandonment this year.
Andrew Bucher, from online pet pharmacy MedicAnimal.com, and Catherine Henstridge, from PetStreet.co.uk, a social networking site for pet owners, are championing greater cooperation between the pet industry, animal welfare groups, pet owners and the public to combat animal abandonment in England and Wales, which increased by 57 per cent in 2009.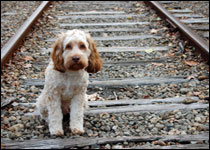 Animal welfare organisations, including the RSPCA and Dogs Trust, fear people are blaming the credit crunch for abandoning their animals. Some people are facing eviction or moving into cheaper or rented accommodation where pets aren't welcome. Pets are then being forced to fend for themselves.
In a recent video interview with Petstreet.co.uk, David Grant, director of the RSPCA's non-profit Sir Harold Harmsworth Memorial Veterinary Hospital, said: "We're getting to crisis stages. We're running out of cages. A lot of people get a dog, and they should not have one. I doubt whether they can look after themselves. They certainly can't look after animals and it's the animals that suffer.
"We are a third world country when it comes to the cruelty associated with dogs. It's not a civilised country."
Mr Bucher said, "We are working closer with charities and our commercial partners to combat this trend of casting out cats, dogs and other pets. Summer is typically a time when animal abandonment traditionally spikes, so time is of the essence to get prepared for what might be unusually high levels."
The Harmsworth Hospital is working with MedicAnimal.com to lower the price of prescription products to its clients, particularly for the more costly ongoing treatments.
MedicAnimal.com and PetStreet.co.uk are suggesting the following to animal owners to manage the cost of their animal healthcare.
Ensure vaccinations are up-to-date. The cost of prevention is much cheaper than the cost of curing an animal.
Responsible owners budget for pet insurance. Claiming on insurance is invariably a cheaper alternative than paying for treatment of an uninsured animal.
Neuter pets to prevent unwanted pregnancies. Owners will avoid having more than one animal to care for and the associated vet bills.
Go for products with a longer shelf life to reduce waste and buy pet food in bulk. Large bags are cheaper in the long run.
Pet owners should try to share pet care responsibilities. They can "pet sit" for each other and if they have similar pets, they should consider sharing pet supplies with friends.
When it's not an emergency, shop around for vets and ask them how they charge. There are vast variations, and some allow bills to be paid over time.