The owner of the UK's last circus elephant has been sentenced for animal neglect – but was the sentence right?
The owner of the UK's last circus elephant has been found guilty of causing the animal unnecessary suffering and failing to provide for its needs.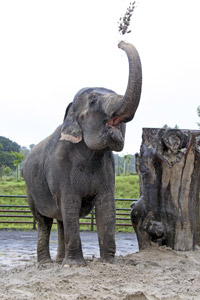 However, the level of his sentence prompted a mixed response from animal welfare groups.
On November 23, 2012, 69-year-old Bobby Roberts, proprietor of the Bobby Roberts Super Circus, was found guilty at Northampton Crown Court of mistreating 58-year-old elephant Anne.
His wife Moira, 75, was acquitted.  
Roberts was found guilty of two counts of unnecessary suffering and one count of failing to provide for the animal's needs, after jurors were shown footage of circus hands kicking and beating the elephant.
He was given a conditional discharge, with no fine, and no costs were awarded.
Speaking on behalf of the RSPCA's special operations unit, which worked closely with authorities to bring the case to court, spokesman Jody Gordon said he was delighted some justice had been done for Anne.
Commenting on the undercover footage, he added: "Anyone looking at this shocking footage can see how this poor elephant suffered, and this clearly spells out how completely unacceptable this is. It is only a pity those physically beating Anne in the film footage could not be prosecuted also."
The undercover video was originally filmed by action group Animal Defenders International (ADI) at the start of 2011.
ADI chief executive Jan Creamer said: "Despite the considerable suffering caused to Anne the elephant, the sentencing meted out to Mr Roberts is derisory and provides no faith that the Animal Welfare Act can protect animals in circuses."
Anne was removed from the Roberts' care in April 2011 and has since enjoyed a new life at Longleat Safari Park.
image credit: Joe Murphy/RSPCA