The RSPCA is asking clergy to begin planning animal welfare servicesthat will increase awareness of the effects of climate change onanimals.
Both the RSPCA and the Church of England are highlighting the effects of climate change on biodiversity, and Animal Welfare Sunday (October 4) is a perfect opportunity to hold services with this theme.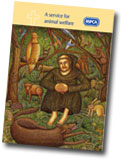 Oxford theologian the Reverend Professor Andrew Linzey said: "This is a prime example of how human and animal causes are interrelated. As Noah would have said, We are all in one boat together.
"I urge clergy and congregations to start preparing prayers and readings from the RSPCAs Service for Animal Welfare and to include discussion on the effects of climate change on animal welfare."
Earlier this year, new information on the effect of climate change on farm animal welfare and the spread of disease in dogs, and effects on wildlife was released as part of an RSPCA conference on the issue.
David Bowles, RSPCA head of external affairs, said: "As reported at the RSPCA conference, there is a predicted increase in the spread of infectious diseases to dogs from the continent.
"In fact, the south east of England has already seen cases of heartworm, a parasitical disease spread by mosquitoes which thrives in warmer conditions and can kill unvaccinated dogs. Its important to raise awareness of the disease and let dog owners know that there is a vaccine available."
The Church of England has also launched a campaign, Shrinking the Footprint, which encourages action on climate change.
To help clergy prepare services on animal welfare, the RSPCA has published A Service for Animal Welfare, written by Prof Linzey, complete with prayers, readings and liturgies, which is available to download from the Societys website.