Dogs Trust rescue centres receive two puppies for rehoming just days after they were bought as Christmas presents.  
The phrase "A dog is for life, not just for Christmas" is

well-known, but sadly this did not apply for puppies Cluedo and Scrabble who were handed in to Dogs Trust rehoming centres on the 28th December 2011.
During the festive period, staff at Dogs Trust's 17 Rehoming Centres across the UK were busy working around the clock caring for Christmas canine casualties.
Dogs Trust Leeds had a 14-week-old Greyhound crossbreed puppy brought into the rehoming centre on 28th December. His owners purchased him on Christmas Eve, but after a few days decided to give him up as he was not yet housetrained and began chewing the children's other Christmas presents.
Dogs Trust Leeds Manager Amanda Sands said: "We have renamed this little pup Scrabble and hope to find him a new home in January with a family that have the time to train a puppy. Scrabble was bought as a Christmas present and his owners did not realise how much time is involved in looking after a puppy – unlike toys they don't come with an
off switch and puppies certainly need lots of training."
Cluedo was also brought in on the 28th December to Dogs Trust Canterbury. The eight-week-old Yorkshire Terrier crossbreed was handed in after an elderly lady walking her dog in the woods was approached by another woman trying to sell the young puppy to passers-by.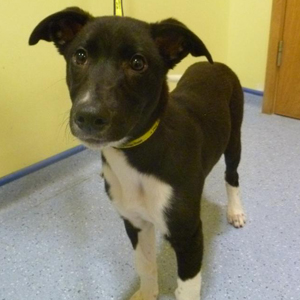 Dogs Trust Canterbury Manager Adam Levy said: "We believe little Cluedo was an unwanted Christmas present and his owner was hoping that dog owners walking their pets around the woods would take pity on him and buy him. If no one bought him, the owner said she would dump him in the woods so we are grateful to the elderly lady who brought him into us."
Research* from Dogs Trust revealed that more than a third of children asked for a puppy as a present and 16 per cent of parents would have bought one if their child put it on their Christmas list.
Scrabble and Cluedo are now in safe hands and will be looking for new homes in the New Year. Anyone interested in rehoming the puppies should contact Dogs Trust Canterbury for Cluedo on 01227 792 505 or Dogs Trust Leeds for Scrabble on 0113 281 4920.
For further information on Dogs Trust, visit www.dogstrust.org.uk
*Dogs Trust Survey carried out by One Poll in October 2011. 1,000 respondents of parents with children aged 3 to 16 years old.