One of the veterinary stars of a television documentary series about Chester Zoo said the show has raised awareness of the charity's vital work.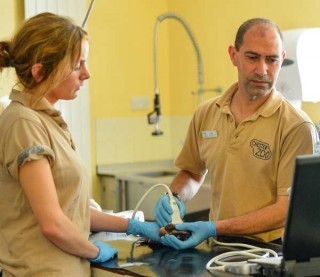 Chester Zoo's veterinary manager Javier Lopez is just one of the members of staff to feature in the Channel 4 show The Secret Life of the Zoo, which focuses on the animal's stories while exploring their relationship with the keepers.
Sad scenes
Mr Lopez said: "There were some sad scenes filmed with the vet team, but we are all really passionate about getting the message out there about the work we do, the level of care the animals receive and the value of the conservation work we carry out.
"We are a charity, so the more public support we have and the more people are inspired to visit the zoo, the more we can help conserve endangered species, both here and in the wild."
One of the highlights for Mr Lopez has been the public's positive reaction to the show, as he actually initially felt uncomfortable being filmed.
Filming fun
Mr Lopez said: "If it helps to make people aware of the incredible work zoos do…then I'm happy to appear on camera – even if it is strange to hear my funny accent.
"Whenever the crew filmed in the vets' centre, it was a highly sensitive time for the animal in question, so there was no way we were going to repeat or stage anything for the sake of the cameras.
"But judging by how the series has turned out, it looks like [the film crew] captured some great footage."
The Secret Life of the Zoo airs on Channel 4 on Tuesdays at 8pm.