A homeless dog found fighting for its life in a doorway is now in the care of the Blue Cross pet charity.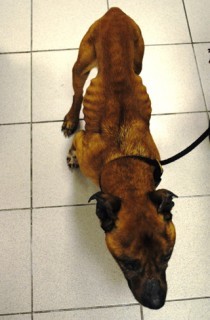 A member of the public discovered the lifeless dog curled up in a shopfront in Tulse Hill, south London, in freezing conditions in early February. The Staffordshire bull terrier cross, named Jim by Blue Cross, was rushed to the charity's animal hospital in Victoria where he received emergency treatment.
Touch and go
Jim, thought to be around seven to 10-years-old and weighing 13.5 kilograms – 60% of his ideal body weight – was put on a drip and settled on a warm bed in a kennel. The team managed to stabilise him and while he's on the road to recovery, it was touch and go for a few days.
Blue Cross chief veterinary surgeon Mark Bossley said the team was shocked by Jim's condition.
He said: "Jim was severely emaciated and wouldn't have survived much longer had he not been found. We wanted to find out if there were any underlying medical conditions and ran some blood tests and x-rays, which came back clear.
"We then did an exploratory laparotomy and found a lot of unsuitable food sitting in Jim's stomach – he must have been scavenging for some time to stay alive."
Road to recovery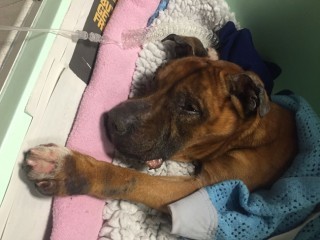 Now receiving the care he so desperately needed, Jim is improving rapidly and is said to getting brighter all the time.
Dr Bossley said: "Jim's been through so much and he really deserves to find someone who will love and care for him. He's still very weak and wobbly, but he's on a special diet now to help him put some weight back on and he's getting brighter each day.
"It will take a few months before he reaches his ideal weight, but we didn't think he'd make it this far – he's such a fighter."
Because Jim wasn't microchipped or wearing a collar and tag, Blue Cross was unable to trace his owners.
Jim will go to an experienced Blue Cross foster volunteer to help him put weight on and where he can continue his recovery in a home environment.