Pet Blood Bank UK (PBBuk) iscelebrating the launch of the UK's first mobile blood collection unitwith a tour of vet schools, kicking off at The University ofNottingham's School of Veterinary Medicine and Science.
The unit, donated by Royal Canin, will be showcased for the first time at a blood collection session taking place at Nottingham's Sutton Bonington campus.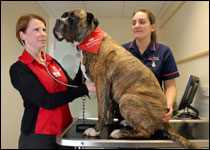 In addition to the blood collection, third-year veterinary students are being given the chance to perform clinical procedures, such as physical examinations and blood screening.
Pet Blood Bank hopes this initiative will help to educate tomorrow's vets on the importance of blood-typing dogs, so that if and when an animal needs a transfusion, the correct blood type can be given without delay. This is important for repeat transfusions, but it also enables the valuable blood taken from all blood types to be used appropriately, without depleting stocks.
Wendy Barnett, executive director of Pet Blood Bank UK, said: "We are so excited about the arrival of the mobile unit. In addition to collecting blood from our very loyal and much appreciated veterinary practices, thanks to Royal Canin, the new mobile unit will now allow us to reach out to more blood donors and fulfil the ever-increasing demand from veterinary practices for these lifesaving products. A tour of the veterinary schools is our first objective, which we hope will raise awareness of the charity's work among the veterinary profession and the public."
Caroline Quarmby, university teacher at the School of Veterinary Medicine and Science, commented: "This will be a great opportunity for students to examine dogs and practice laboratory techniques under supervision. They will also be able to assist with the donation process and post-donation checks. I hope that by seeing first-hand the emphasis placed on donor welfare, they will be encouraged to use blood products when they qualify to help save the lives of other dogs."
_____
Launched in March 2007, PBBuk was the first service to collect, process, store and supply pet blood products; providing veterinary professionals with immediate access to blood products for transfusions.

Pet Blood Bank is a not-for-profit charity, supported by Vets Now, the leading emergency and critical-care providers for pets in the UK. All profits are invested into developing veterinary transfusion medicine, education programmes and welfare, and it is currently researching the possibility of launching a feline blood bank.

Pet Blood Bank is always looking for suitable donors. To find out more about blood products and donations, or for details of a blood collection drive near you, contact PBBuk on 01509 232 222 or 0844 800 9925 (5p/min) or visit www.petbloodbankuk.org .